Classic Albums Live: Fleetwood Mac – Rumours
Saturday, Aug 4, 2018 at 8:00 PM - English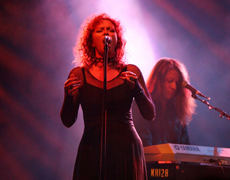 South Miami Dade-Cultural Arts Center Presents Classic Albums Live: Fleetwood Mac – Rumours.
Classic Albums Live performs note for note and cut for cut from the greatest albums ever made.The world-class musicians of Classic Albums Live recreate Fleetwood Mac's legendary GRAMMY® award-winning album Rumours, more than forty years after its release. Revisit Fleetwood Mac's passionate look at love, loss, breakups, betrayals, and dreams. Originally released in 1975, it contains many of the group's greatest hits, including "Don't Stop," "Go Your Own Way," "The Chain," and "Dreams."
*VIP tickets include table seating and service, with a complimentary drink.
Tickets are $35 and $50 (VIP)*.
Location
South Miami-Dade Cultural Arts Center 10950 SW 211 ST, Cutler Bay, FL 33189 (Map)