The Norman Jackson Band
Friday, Aug 10, 2018 from 8:00 PM to 10:00 PM - English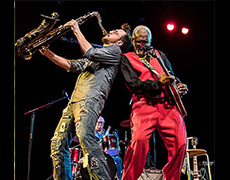 Ranked 3rd in the world at the 2016 International Blues Challenge Finals, the Norman Jackson Band is touring internationally promoting their new release, "It's the Drummer's Fault". "The Soul Machine" Norman Jackson was raised in Detroit and Chicago and learned from the true Blues and Soul masters. He mentored his protégé and saxophonist, Rick Shortt from the age of 12 to become the wild showman and lead player in the band. His nephew, the Boogieman was born and bred to be his drummer while adopting Danny Williams as his bassist from his church congregation. Norman and his band sing and play legitimate Blues through storytelling from their lives that will make you laugh, smile and will guarantee you "GET DOWN" as you "Get Your Happy On!".
Event Fees
General Admission $ 20.00.
Reserved Table Seating $ 25.00.
Premium Table Seating $ 30.00.
Location
Arts Garage 94 NE 2nd Ave, Delray Beach, FL 33444 (Map)