Nacho - La Criatura Tour 2018
Saturday, Jul 28, 2018 at 7:00 PM - English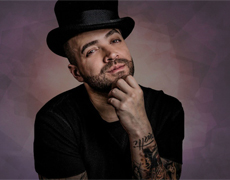 Until 2017, he was best known as half of the reggaeton/Latin pop duo Chino & Nacho. Possessed of a sweet tenor voice, his songs reflect everything from pop and R&B to hip hop.
After a decade together, Chino & Nacho announced an amicable split. Nacho wasted no time.
Along with Wisin, he was a featured guest on Sebastián Yatra's platinum single and massively successful video "Alguien Robó." In April, he issued "Bailame," his debut solo single. It reached a million views the first day and racked up over 86 million views in total. The track reached the Top 20 on the Hot Latin Songs chart. He also performed the song at the annual Premios Juventud Awards show. Nacho followed it with "Valiente" in May. He also duetted with Spain's Dasoul on their charting single "Kung Fu," and he was a featured guest on 911's "Feid."
Location
The Fillmore Miami Beach at Jackie Gleason Theater 1700 Washington Avenue, Miami Beach, FL 33139 (Map)