Yorgis Goiricelaya & Elegance Project
Saturday, Oct 6, 2018 from 8:00 PM to 10:00 PM - English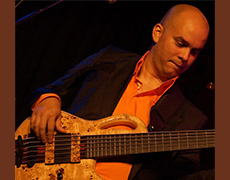 Elegance is a Latin jazz project. The project is a musical fusion of Cuban, world music and traditional jazz. The unique sound highlights the dynamics and rhythmic detail in an elegant repertoire. The band is composed of high-level musicians based in the city of Miami including bassist Yorgis Goiricelaya, pianist Livan Mesa, drummer Reiner Guerra, saxophonist Yunior Arronte and conga player Ramses Araya.
Its founder is bassist Yorgis Goiricelaya, a world-class musician who has worked with great figures of the Latin market and Grammy-winning artists such as Albita, Rey Ruiz, Luis Enrique, Issac Delgado, Francisco Cespedes, Paquito D'Rivera, Arturo Sandoval, Oscar D'León, Habana Abierta, Osmany Paredes and many others. He has participated in numerous shows with many of these stars around the world.
Event Fees
Premium Table Seating $ 45.00.
Reserved Table Seating $ 40.00.
Reserved Table Seating $ 30.00.
Location
Arts Garage 94 NE 2nd Ave, Delray Beach, FL 33444 (Map)