Vinicius Cantuaria sings Antonio Carlos Jobim
Saturday, Oct 13, 2018 from 8:00 PM to 10:00 PM - English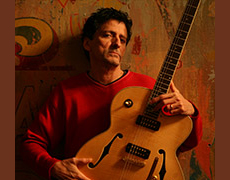 Singer, guitarist, composer, drummer, and percussionist, Vinicius Cantuaria is well-known Brazilian musician in the sphere of Bossa Nova and Jazz. Born in Manaus (Amazon), he grew up in Rio, and after several successful records, he moved to New York in the mid-90's. He has proved himself in a number of fields, directly or indirectly linked to Brazilian music. Leader of rock band "O Terco", he released six albums in Brazil in the 80s and with his album "Sol ne Cara" (Grammavision), was a pioneer of the neo-Brazilian music in 1996. He then became one of the most important downtown New York figures, multiplying collaborations with artist as eclectic as Brian Eno, Laurie Anderson, Brad Mehldau, Arto Lindsay, bill Frisell, Marc Ribot, David Byrne, and Ryuichi Sakamoto.
As a composer, Cantuaria has had many successes, with "Lua e Estrela" (recorded by Caetano Veloso in 1981), "Coisa Linda," "Só Você ," and "Na Canção"; as a sideman, he has performed with Caetano Veloso, Chico Buarque, to only name a few.
Event Fees
General Admission $ 30.00.
Reserved Table Seating $ 40.00.
Premium Table Seating $ 45.00.
Location
Arts Garage 94 NE 2nd Ave, Delray Beach, FL 33444 (Map)