Interactive Movie Nights at The Wick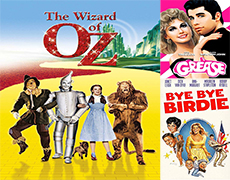 Tell me more! Tell me more! Summer nights are heating up as your favorite movie musicals come to The Wick Theatre in an interactive format. Actors will be singing and dancing in the aisles, encouraging you to sing along to your favorite numbers from films including The Wizard of Oz, Grease and Bye Bye Birdie.
Tickets for the films are $20.
Dinner at Tavern at The Wick, including the movie, is $45.
Show more >>
Popcorn, gelato and other treats will be available for purchase in the lobby. Or, join us for a fabulous family-friendly dinner at Tavern at The Wick. The restaurant will be taking reservations for family-style dinners that that will include a salad bowl, chicken tenders with fries, macaroni & cheese, chicken picatta, mixed fruit bowls and a basket of brownies. In addition, specialty desserts can be ordered ala carte.
Dinner is at 5:30 pm, and the films begin at 7:00pm.
Film dates as follows:
July 11: The Wizard of Oz
July 18: Grease
August 1: Bye Bye Birdie
Location
The Wick Theater 7901 North Federal Highway, Boca Raton, FL 33487 (Map)