Art Future / Future State Semiotic Explorations By Dr. Andris Taikmani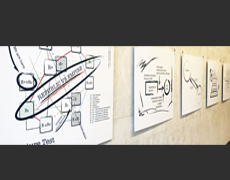 Dr. Andris Taikmanis, artist, semiotician and Vice Rector of the Art Academy in Latvia presents his ideas through a series of "sketched notes" taken during a 2016 conference about how we go about tackling future problems. This is the first exhibition of his work in the United States.
Free and open to the public.
Location
FIU - College of Architecture + The Arts 11200 SW 8th Street - PCA 272, Mia, FL 33199 (Map)