12th Annual Young At Art Teen Comic Convention
Friday, Jul 20, 2018 from 10:00 AM to 6:00 PM - English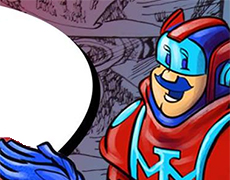 Young At Art Museum hosts the 12th Annual Young At Art Teen Comic Conventionon. During the event, teen comic artreprenuers will display and sell their colorful cartoon artwork, Emmy Award-winning cartoonist Rob Cabrera will host a demonstration from 1:30 to 2 p.m., video gaming stations will encourage gamers to play everything from The New Star Wars Legos "Force Awakens" to hundreds of retro games and everything in between and students will vie for prizes during the timed Quick Draw Contest. Among the other festivities planned throughout the day are a family friendly Cosplay Fashion Show, art demonstrations, digital film screenings and vendor stations.
Admission is included with admission to Young At Art Museum:
$14 per person;
$12 for Broward County residents, seniors and children over age 1;
$11 for military members and their immediate families.
Come in costume and receive a $4 admission discount (G-rated costumes and no full facemasks, please).
Location
Young At Art Museum 751 S.W. 121 Ave., Davie, FL 33325 (Map)
Contact Information
Young At Art Museum
954-424-0085