Bruce Vilanch
Friday, Oct 5, 2018 at 8:00 PM - English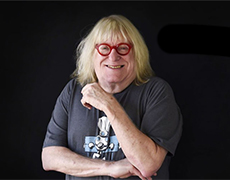 One of the most sought-after jokesmiths in the entertainment industry, Bruce Vilanch has become a recognizable face in his own right, thanks to the feature-length documentary "Get Bruce!" and his one-time stint as a regular on "Hollywood Squares", for which he also served as head writer.
Show more >>
He made his feature debut as a dress manufacturer in "Mahogany', starring Diana Ross, and also contributed material to her live act. Mr. Vilanch put his Muppet-like persona to excellent use as Santa's number one helper in the syndicated TV-movie "It Nearly Wasn't Christmas". On the heels of "Get Bruce!", Vilanch performed his comedy stylings Off-Broadway in "Bruce Vilanch: Almost Famous". After a first act reminiscing on his odd path to almost famousness, he opened up the floor to questions inAct II, displaying his amazing ability for off-the-cuff one-liners. As he told US WEEKLY, there is a downside to celebrity: "Now, I get knocked if someone tries something that doesn't work. Before it was the fault of these anonymous people, 'the writers.'"
He scripted most of the AcademyAwards telecasts over the last couple of decades, two of which won Emmys, including the one featuring Billy Crystal Hannibal Lecter entrance. Mr. Vilanch has also written for The Tony's, The Grammy's, The Emmy's, and just about every other award show to brighten your television screen. He also participates and volunteers at almost every charity function, especially those dealing with GLBT issues. Now he's coming to a theater near you…
This event may include adult language and content.
Location
Aventura Arts & Cultural Center 3385 NE 188 Street, Aventura, FL 33180 (Map)