Firebird, le Spectre de la Rose, Pentimento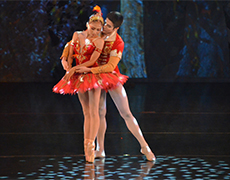 FIREBIRD: A renewed production by Arts Ballet Theatre of Florida on Stravinsky's brilliant score, Firebird returns by popular demand. The ballet tells the tale of a magical firebird that helps a heroic prince rescue a beautiful princess from Katscheii, a sinister force of evil. Stravinsky's masterpiece includes the Firebird's exuberant dance followed by variations based on Russian folksongs, Katscheii's rhythmic dance and a romantic lullaby. With fantastic costumes by Jorge Gallardo, sets by Jim Hammond and Digital Mapping backdrops along with magical special effects fulfill this wonderful production with choreography of Vladimir Issaev.
Show more >>
LE SPECTRE DE LA ROSE: The program also includes Le Spectre de la Rose, a beautiful short ballet about a young woman who dreams of dancing with the spirit of a souvenir rose from her first ball, based on a poem by Théophile Gautier
PENTIMENTO: This ballet choreographed by Vicente Nebrada to excerpts of Johann Sebastian Bach's Four Suites for Orchestra is a bold, abstract work that has the look of a vibrant oil painting. The piece develops through layers of movement, color, light and costuming. The use of masks, the flowing fabrics and the creative lighting provide a mystical atmosphere in which we see what was once there before while experiencing what is there now.
Arts Ballet Theatre maintains a very strict late seating policy. LATECOMERS WILL NOT BE SEATED UNTIL INTERMISSION. Not recommended for children under 4 years of age.
Location
Aventura Arts & Cultural Center 3385 NE 188 Street, Aventura, FL 33180 (Map)
Contact Information
305-237-3341