Lucy Grau
Saturday, Sep 15, 2018 at 8:00 PM - English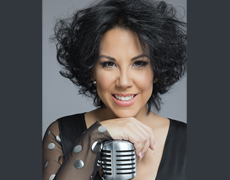 Arts Garage presents vocalist Lucy Grau. True vocals, personality, and dynamic performance skills! Lucy Grau, a charismatic and talented singer from Miami, with all the elements of a marquee vocalist, has delivered breathtaking performances, domestically and internationally with her powerhouse voice. She effortlessly masters both, the English and Spanish languages while staying true to her Latin rhythmic roots as she proves in her hits "Last Dance" and "On The Radio" (Salsa Version), the Donna Summer classics she chose as a rendition to the late singer and one of Lucy's all-time favorite idols.
Lucy has shared the stage with many talented artists and musicians such as La India, Andy Garcia, Richie Rey & Bobby Cruz, Tito Nieves, Roberto Torres, Rey Ruiz, Federico Brito, Eddie Santiago, Jose Alberto "El Canario," Carlos Oliva y Los Sobrinos del Juez, Hansel Martinez (Hansel y Raul), Willy Chirino, Albita, Johnny Ventura, Larry Harlow, Brenda K. Starr…among many more.
BRING YOUR OWN ... WHATEVER! The theater boasts cabaret-style table seating, where patrons can bring their own food and drinks, including alcohol. Music courtesy of KCC Productions.
Location
Arts Garage 94 NE 2nd Ave, Delray Beach, FL 33444 (Map)
Contact Information
561-571-8510