MOCA's 2017 Creative Arts Summer Camp
Thursday, Jul 27, 2017 from 9:00 AM to 3:30 PM - English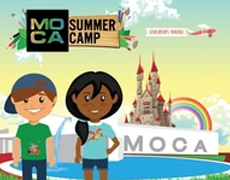 The Museum of Contemporary Art (MOCA), North Miami, is hosting its 2017 Creative Arts Summer Camp comprising of five 2-week sessions for kids ages 6 through 12. These sessions will each offer a different theme to help kids experiment with a variety of art and design techniques in a creative environment. They are taught by art professionals and all projects will be inspired by great works of art, dating from antiquity to the present day.
Show more >>
 The classes will run from 9 AM – 3:30 PM Monday through Friday.
June 12 – June 23: Fairies and Trolls
June 26 – July 7 (no camp on July 4): Dragons and Knights
July 10 – July 21: Heroes and Monsters
July 24 – August 4: Kings and Queens
August 7 – August 18: Mario and Sonic
Pre-care and after-care will be provided for an additional fee from 8:30 AM to 9:00 AM and from 3:30 PM to 5:30 PM. 
$160 per 2-week session for the general public.$120 per 2-week session for MOCA members, North Miami residents and City employees.
Location
Museum of Contemporary Art, North Miami 770 NE 125th Street, North Miami, FL 33161 (Map)
Contact Information