The Miami Foundation's Public Space Challenge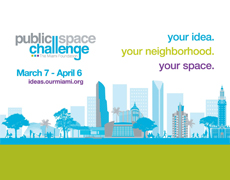 The Miami Foundation is taking submissions for its 2017 Public Space Challenge, a challenge for ideas that create, improve or activate local gathering places like parks, playgrounds, sidewalks, basketball courts and plazas in Greater Miami. Now in its fifth year, the Foundation invests $305,000 to make the top ideas a reality; Challenge partner Target will support winning ideas that promote healthy eating and active play. Anyone can submit an idea individuals, groups, public agencies, nonprofits or private companies at ideas.ourmiami.org through April 6th.
Show more >>
This year, The Miami Foundation is also working with the Miami-Dade County Parks, Recreation and Open Spaces Department to connect Challenge ideas to the Open Space Master Plan. The comprehensive, 50-year vision looks to create a seamless, interconnected and sustainable system of parks, public gathering places, trails, waterways, greenways and streets throughout the county. The Foundation invites applicants to review the plan, and think about how their 2017 ideas fit within it.
To help Challenge participants with planning, submitting and executing their projects, The Miami Foundation will host a series of public workshops with Urban Impact Lab and Design Thinking Miami.
For a complete list of workshops visit website.
Location
The Miami Foundation 40 NW 3rd Street Suite, 305, Miami, FL 33128 (Map)