Evening Yoga & Meditation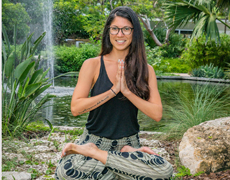 Reserve your spot here!
Join Franci from 5:30-5:50 every Thursday for FREE guided meditation!
Next up, Yoga from 6pm-7:15 ($10 Fee).
This class has gentle flow that is geared toward those that want to slow down the revolutions of the mind. Class will be filled with attention to proper alignment that will allow you to slowly feel tension melting away. We will learn to use breathing exercises that activate relaxation and create more space in our body and mind. If you are new to yoga and have tightness, it is recommended you bring a block from home or cushion for our seated meditation. A few yoga mats are available. Come! Join us under the palms! You deserve this nourishing energy from the garden.
Yoga- $10 at door Registration Required.
Location
Miami Beach Botanical Gardens 2000 Convention Center Dr., Miami Beach, FL 33139 (Map)