Creatures Of Light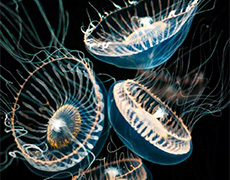 Get ready to shed some light on these extraordinary organisms during Creatures of Light: Nature's Bioluminescence, opening Saturday, October 6 in the Hsiao Family Special Exhibition Gallery. From the flickering fireflies found in backyards around the world to the alien-like deep-sea fishes and other fantastic creatures that illuminate the perpetually dark depths of the oceans, you'll explore the biology behind these amazing creatures through interactive experiences and recreated environments.
Creatures of Light will be on view from Saturday, October 6, 2018 through Sunday, April 21, 2019. Admission to Creatures of Light is included in all museum admission tickets.
Creatures of Light is organized by the American Museum of Natural History, New York www.amnh.org, in collaboration with the Canadian Museum of Nature, Ottawa, Canada; and The Field Museum, Chicago.
Location
Frost Science Museum 1101 Biscayne Blvd, Miami, FL 33132 (Map)