Cinema Series at SoundScape Park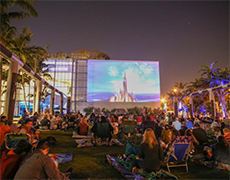 Bring a blanket, share a picnic dinner and invite your friends and family to enjoy a spectacular season of free films.
MBFILM to 91011 for weekly reminders and updates!
Each season, a guest curator is invited the program the film series. The 2018-2019 SoundScape Cinema Series is curated by Igor Shteyrenberg, Executive Director, Miami Jewish Film Festival.
Show more >>
Schedule for Miami Beach 2018-2019 Soundscape Film Series
October
Wednesday, October 17, 2018 - THE RED SHOES (1948) [70th Anniversary]
Wednesday, October 24, 2018 - A QUIET PLACE (2018)
Wednesday, October 31, 2018 - THE NIGHT OF THE LIVING DEAD (1968) [50th Anniversary]
November
Wednesday, November 7, 2018 - MARY POPPINS (1964)
Wednesday, November 14, 2018 - THE LITTLE MERMAID (1989)
Wednesday, November 21, 2018 - PADDINGTON 2 (2018)
Wednesday, November 28, 2018 - BIG (1988) [30th Anniversary]
December
Wednesday, December 12, 2018 - AN AMERICAN IN PARIS (1951)
Wednesday, December 19, 2018 - EDWARD SCISSORHANDS (1990)
Wednesday, December 26, 2018 - BLACK PANTHER (2018)
January
Wednesday, January 2, 2019 - PATHER PANCHALI (1955)
Wednesday, January 9, 2019 - THE BAND'S VISIT (2007)
Wednesday, January 16, 2019 - 2001: A SPACE ODYSSEY (1968)
Wednesday, January 23, 2019 - INDIANA JONES AND THE LAST CRUSADE (1989) [30th Anniversary]
Wednesday, January 30, 2019 - HARMONIA (2016)
February
Wednesday, February 6, 2019 - HAIRSPRAY (1988)
Wednesday, February 13, 2019 - AS GOOD AS IT GETS (1997)
Wednesday, February 20, 2019 - BABETTE'S FEAST (1987)
Wednesday, February 27, 2019 - FITZCARRALDO (1982)
March
Wednesday, March 6, 2019 - WONDER WOMAN (2017)
Wednesday, March 13, 2019 - READY PLAYER ONE (2018)
Wednesday, March 20, 2019 - THE RED TURTLE (2016)
Wednesday, March 27, 2019 - LITTLE SHOP OF HORRORS (1986)
April
Wednesday, April 3, 2019 - MASTER AND COMMANDER: THE FAR SIDE OF THE WORLD (2003)
Wednesday, April 10, 2019 - BRIGHT STAR (2009)
Wednesday, April 17, 2019 - WON'T YOU BE MY NEIGHBOR (2018)
Wednesday, April 24, 2019 - DAYS OF HEAVEN (1978)
May
Wednesday, May 1, 2019 - IDA (2013)
Wednesday, May 8, 2019 - REBEL WITHOUT A CAUSE (1955)
Wednesday, May 15, 2019 - SORCERER (1977)
Wednesday, May 22, 2019 - THE LAST RESORT (2018)
Wednesday, May 29, 2019 - ONCE UPON A TIME IN THE WEST (1968)
Location
SoundScape Park 400 17th St, Miami Beach, FL 33139 (Map)