Afro Roots World Music Fest
Saturday, Apr 6, 2019 at 7:30 PM - English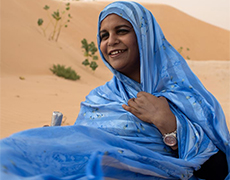 A MAURITANIAN GRIOT AND OTHER FEMALE AFRO-FUTURIST VOICES TBA.
Mauritania's Noura Mint Seymali draws deep on her West African and Maghreb roots to propel her family's rich griot tradition into the 21st century. Her band conjures "a full-blown sandstorm of hypnotic grooves, melding traditional Mauritanian instruments, like the ardine and tidinite, within an electrified psychedelic rock band (Quietus, U.K.)." Her debut album Tzenni was hailed by VICE/Noisey as "arguably the best psych/blues album of the year" and its follow-up-Arbina-the best album in the universe."
Co-presented with Rhythm Foundation and Community Arts & Culture as part of AfroRoots World Music Fest.
Location
North Beach Bandshell 7275 Collins Avenue, Miami Beach, FL 33141 (Map)