Rachelle Coba Celebrating International Womans Month
Sunday, Mar 31, 2019 from 4:00 PM to 7:00 PM - English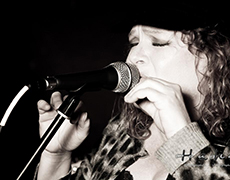 The Global Arts Project, Inc. and the Collins Park Neighborhood Association present the second FREE Artscape concert in Collins Park, featuring the outstanding blues guitarist Rachelle Coba and her band.
With a voice made for the blues and guitar sensibilities that enhance the groove, Rachelle Coba is an intuitive performer able to grab an audience by the heart. She is an innovative writer and she possesses the talent of making new arrangements of cover songs, acoustic or electric, done her way.
Show more >>
She is a classically trained guitarist with a bachelor's degree in guitar performance. Since graduating from college, she has worked with and toured as a guitarist with artists such as Buddy Guy, Super Chikan, Albert Castiglia, Grady Champion and Ray Drew. As leader of her own band she has played many festivals including the King Biscuit and Chatauqua Hills Blues Festivals. She was a featured performer in the recent Blessissippi Blues benefit in Clarksdale, Mississippi. Recently, the band has opened for Dr. John, The Cate Brothers, Karen Lovely, Candye Kane, Earl and Them, Hadden Sayers, Hamilton Loomis,TUF. She has played with Eddie Turner, Iko-Iko, Joe Pitts, and Stacy Mitchheart , among other stars.
Rachelle is also the resident teaching artist for the blues in the schools program in the Wichita Kansas area. She is currently the teaching art director at Wichita's Carpenter Place, a home for at risk girls as well.
" Hotter than Georgia Asphalt in the summertime… She rocked and was so incredible she had two standing ovations." - Liberty Press
Produced by Global Arts Project, Inc. and the Collins Park Neighborhood Association. Collins Park is located at 2100 Collins Ave., Miami Beach, next to the Bass Museum. Each show will open with a set by students of Dr. Ed Calle. Food service will be available on-site.
Location
Collins Park 2100 Collins Ave, Miami Beach, FL 33140 (Map)