Guest Artist Recital: Corina Marti, Harpsichord
Monday, Feb 18, 2019 from 7:30 PM to 9:00 PM - English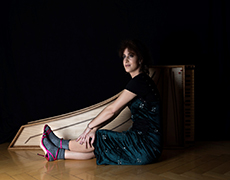 Corina Marti is a Swiss classical musician who specializes in performance on Medieval, Renaissance and Baroque flutes as well as the earliest keyboard instruments. For this concert, she will perform a myriad of early Polish works.
Show more >>
She was born in Switzerland, where she received her first two degrees in 'early music' (Renaissance/Baroque flute and in harpsichord).
However, her heart belongs to Medieval and Early Renaissance music. Passion for it has brought her to the Schola Cantorum Basiliensis from where she graduated with distinction under the guidance of Pierre Hamon and Kathrin Bopp. In 2003, she joined the faculty of Schola's Department for Medieval and Renaissance Music as a tutor for medieval flutes. She is frequently invited to teach master classes. She is artistic co-director of LA MORRA, Ensemble for Late Medieval and Early Renaissance Music (www.lamorra.info).
In addition to her work with LA MORRA, where she plays early flutes and keyboard instruments (clavicimbalum and clavicytherium), she enjoys performing Baroque and contemporary music and has appeared both as a soloist and with various ensembles (including Jordi Savall's Hesperion XXI) all over Europe and in Middle East. Apart from the CDs with LA MORRA, she has recorded seventeenth-century music from Lombardy and J. S. Bach's flute sonatas (with harpsichord player Alena Hönigova), as well as music from fifteenth- and early sixteenth-century German keyboard and lute sources (with Michal Gondko).
Location
Herbert and Nicole Wertheim Performing Arts Center 10910 SW 17th St., Miami, FL 33199, Miami, FL 33199 (Map)