The Fish House Seafood Grill & row bar
Thursday, Mar 21, 2019 from 12:00 PM to 11:00 PM - English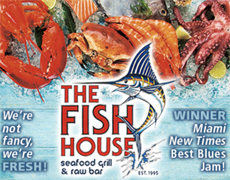 We're not fancy, we're fresh! Winner Miami New Times Best Blues Jam
BackRoom Live: Wednesday – PRO JAZZ JAM with:
March 6th: Magela Herrera – CD Release Event
March 13th: Simon Moullier Quartet (NYC)
March 20th: John Yarling
March 27th: Nicole Yarling
Thursday – PRO BLUES JAM
Fridays and Saturdays – LIVE MUSIC
March 5th: Fat Tuesday Mardi Gras Party with Mac and the Ring Binders
March 8th and 22nd: Federico Britos violin and Ahmed Barroso guitar
Serving the BEST Seafood and more!
Show more >>
Enjoy the FINEST seafood AND the best music from around Miami in the BackRoom Live! Come inside and be seated in our nautical setting while we open your fresh oysters. If you like SUSHI, check our Peruvian style Ceviche; talk about MAGNIFICENT!!
It's impossible to ignore the sizzle and aroma as hot plates of fresh catch and rib delicacies are rushed to a table near you! That's why the FISH HOUSE has Two Diamonds from AAA!
Location
The Fish House 10000 SW 56th Street, Miami, FL 33165 (Map)
Contact Information
305-595-8453