Marielle Plaisir: Acta Est Fabula (The piece is over)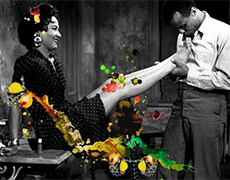 Opening February 22, 7-9PM
Join Locust Projects on February 22 from 7-9PM to celebrate the opening of ACTA EST FABULA (The piece is over), a new site-specific multimedia installation by French-Caribbean Miami-based artist Marielle Plaisir on view through March 21. ACTA EST FABULA (The piece is over) features a commissioned video in which the artist modifies, intersplices, and repurposes films starring actress, singer, and dancer Dorothy Dandridge from the 1940s and 50s as part of an immersive environment that explores representations of the black sexual body and the exoticism of opera in two works of mid-twentieth century cinema.
Complimentary refreshments provided by our friends at Concrete Beach Brewery.
Show more >>
In "ACTA EST FABULA (The piece is over), Plaisir recontexualizes how Dandridge is depicted, empowering each film's characters to exist solely for themselves and their own truth, confronting the viewer rather than serving as passive entertainment for the watcher's gaze.
Suspended in the space amidst the projected video, Plaisir has extracted 'exotic' clothing symbols from the two films to create new, experimental objects, using fabrics and embellishments to give them a fresh social dimension. Plaisir frees the garments from their supporting roles in enhancing the films' stereotypes through her alterations and manipulations.
Location
Locust Projects 3852 North Miami Avenue, Miami, FL 33127 (Map)