Aesop's Fable-ous Christmas Tree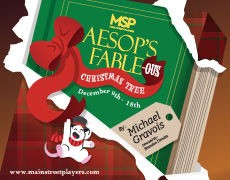 Main Street Players is proud to present the first show of their 2023 season, Aesop's Fable-ous Christmas Tree by Michael Gravois, directed by Brandon Urrutia.
When Aesop's fables are given a holiday spin, you'll get a mash-up of The Twelve Days of Christmas and The Tortoise and the Hare, where the six birds of Christmas compete in a comical race with the turtle dove winning, of course; a tiny snow mouse teaches the abominable snowman that little friends may prove great friends; Ebenezer Scrooge realizes that wealth unused might as well not exist; Santa's elves dream of a life outside the workshop as they sing a "patter poem" about their ideal careers; and even though the eight reindeer panic when Rudolph gets a cold in the nose, they learn that necessity is the mother of invention. A dozen vignettes illuminate important life lessons by reinventing the classic fables, blending humor, rhythmic elements, rapping, puppetry, poetry, song, and storytelling to create a fast-paced, fun-filled show that's filled with Christmas spirit.
Tickets are $30 for adults, $25 for students, seniors, (65+) and military personnel. Theatre League/Industry $20 with i.d. at the door only. Tickets may be purchased in advance at website, or at the door 60 minutes prior to showtime.
Location
Main Street Playhouse 6812 Main Street, Miami Lakes, FL 33014 (Map)