Men Who Paint Flowers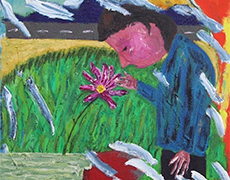 Chase Barney, Thomas Bils, Benjamin Cabral, Clifton Childree, Philip Gerald, Ezra Johnson, Rick Leong, Famakan Magassa, Jose Manuel Mesias, Taichi Nakamura, Alejandro Pasquale, Moises Salazar, Richard Wathen, Shai Yehezkelli .
Mindy Solomon is pleased to present Men Who Paint Flowers an exhibition that focuses on the relationship of men and non-binary artists to flowers- their use as a decorative device or metaphor for vulnerability and suburban decay. Whether portraying elaborate bouquets or still life imagery, the flower represents a symbol of sensitivity and love; a moment to pause and consider. Many of the images depicted in the exhibition have a dark countenance- is it because the flower represents weakness? Something a man is not supposed to experience.
Show more >>
Flowers given on a date symbolize love. Flowers presented at a milestone event represent accomplishment. Flowers at a hospital bedside encourage healing, and flowers at a funeral, empathy and sadness. Flowers in the garden encourage a moment to stop, admire and inhale. Expressions of ephemeral beauty. But why men painting flowers? Why does it really matter? Because as a society we do not know how to experience male sensitivity. We want it. We need it. But when we see it we demand a more masculine response. Is it possible to find a balance? Observationally, I appreciate a masculine perspective but what I really crave is a bouquet of flowers, and the sentiments that accompany it.
The show is divided into several categories- love, humor, decoration and dystopia. Artist Chase Barney utilizes satire in his work and writes: "As a Mormon youth born and raised in Utah, I was powerless against the religious fervor of the cultural landscape that surrounded me. To cope with this dominating atmosphere, I would reimagine Mormon sermons and their promises of a moral Utopia and escape into fantasies: bible stories, tales of righteous men conversing with angels, The Wizard of Oz on VHS, visits to the glitzy Las Vegas strip, and the sparkle of costumed men performing with tigers would be my salvation.
The conflict resulting from my present-day identity as a proud gay man and my past as an obedient Mormon create a tension that utopias are intended to lack. The facade of my work lures the viewer in with saturated color, subversive narratives, and humor. These elements overshadow the ominous undertones and unsettling sweetness in each scene, hinting at the unpleasantness beneath the gloss."
Benjamin Cabral's art practice is largely autobiographical and performative in nature. Everything he makes is either a self-portrait, either in a literal sense or through a distillation of a particular aspect of his life and memories. Through his painting he deconstructs and analyzes the formative years of his life from growing up within the homeschool evangelical community of his childhood participation with a mime performing arts group. These memories are reassembled it into an honest yet inherently fractured and unreliable portrait of who he is as a person. His botanical imagery mirrors the irreverence of his self-portrait works, both joyful and sad.
Moises Salazar is a non- binary queer artist working with images of adornment and self-identity. They create images that are pleasing to the eye and proudly defiant. Whether posing provocatively, or sporting a cowboy hat, there is a tenderness that envelopes each figure. The viewer craves to touch and stroke the soft surfaces. Crochet, glitter and paint entice and evoke nature and celebration.
Philip Gerald is a comedic storyteller. He paints in a faux-naif style that replicates the aesthetic of simplistic digital illustration. His irreverent paintings frequently allude to canonical works from art history, drawing on everything from Old Master still lifes to David Hockney's iconic, sensually charged pool paintings. Using acrylic and airbrush paint, Gerald embraces a fluorescent palette that imbues his work with a joyful and childlike spirit. These colors emphasize the nostalgic undertones of his scenes, which evoke the heydays of clip art and Microsoft Paint. His floral imagery is abundant and silly. Shai Yehezkelli has a distinctly ironic perspective. Yehezkelli's paintings often reflect a humorous irony. The kind of effect one experiences when receiving joyous news tinged with sorrow. Deeply mystical and gestural, some images feel like simple sketches while others are heavily impasto paintings with multiple layers. For this exhibition, his painting reflects a gentility and softness inspired by his new status as a father.
Famakan Magass's work displays a keen sense of observation for human behavior. Magassa maintains humor throughout, abstaining from moralism or denunciation. In his paintings, Magassa navigates between social satire and empathetic portrayals of his subjects, contending with themes ranging from cross-cultural pollination and environmentalism to addiction and loneliness.
His enigmatic, undulating figures are a direct reference to kouredougas – ritual dancers shrouded in secrecy. The kouredougas are members of a non-religious community that follow a code of conduct which emphasizes wisdom, righteousness, and humility. Externally, they can be identified by festive and extravagant outfits of hats, feathers, objects, and jewelry that are seemingly at odds with their measured guiding principles. His style of painting is perfectly suited to include floral imagery as a theme.
Thomas Bils paints an ongoing investigation of the mutability within truth and narrative. Reflecting from the absurdities accustomed to growing up in the suburban south during the beginning of the opioid crisis Thomas crafts autobiographical sceneries, carefully blurring the borders between truth and fiction. It is in these slippages of recollection he assumes his role as the unreliable narrator to develop an ambiguity in which viewer is engaged to consider where the fabrications occur in an attempt to grasp meaning and order. Clifton Childree grew up in a house filled with antiques, Childree notes that from a very early age, he appreciated objects that had a story, a life prior to now. His mother encouraged him to construct his own toys rather than buying him new ones, which sparked his interest in bricolage. Collecting found objects, guessing their story and repurposing them for his own use is a mindset he adopted. In Men Who Paint Flowers Childree incorporates the tradition of collecting broken, forgotten images, and interprets them in a new way adding Florida botanicals printed by hand from his garden. Childree falls in the tradition of post-war art movements of the twentieth century, such as the French art movement New Realism. Having started in the 1960s, the movement was guided by the works of Marcel Duchamp as well as other artists of Dadaism. Like Childree, Nouveau Realists liked to blur the lines between painting and object art.
Select artists have created works that have a decidedly decorative aspect calling to mind 18th century French Painter Jean-Baptiste- Siméon Chardin as well as the vibrant images of of Henri Matisse, and Chinese landscape painting. Ezra Johnson and Rick Leong reference the later perspectives.
Ezra Johnson writes: "I was first attracted to paint the lilies by their simple shape. The petal looks like a fun ramp to guide a loaded brush on. The Filament and Carpel add dimension, for a paint brush they are decorative lines protruding forward. The Anther and Stigma are like firecrackers of color, magically floating and comically dangling. The entire flower and its parts a suggest beauty and reproduction. The addition of the bulbus vase add an upward gesture that is then rounded and curved back around following the lines of the stems and leaves and again down along downward tipped petals in a circular flow. The vase and flowers are sitting on a circular table, a simple stage. The performance combines color with paint as material and energy. There are layers and the residue from previous layers. In the two paintings for Men Who Paint Flowers, "Red Lily" and "Lily with M. Avery Book" I included a simple rectangle phone glowing with an image of a closely cropped face. I was inspired to paint a juxtaposition between these very different representations; the energy of color, pattern and texture with the photographic and technological."
Rick Leong uses landscape as a foundation in his painting and drawing practice to investigate ecologies of identity, spirituality, and environment. As a Chinese- Canadian his mixed heritage has led to an interest in the interaction between eastern and western ideologies within painting. There is a strong correlation between Chinese and Canadian painting traditions through the subject of the landscape. Within the precepts of the classical Chinese landscape tradition there is the pursuit of a psychological and emotional utopia, and within Canada the landscape painting tradition is the recording and dissemination of the utopic new world in the formation of identity. He has explored this relationship by applying the methodologies and aesthetic developed in Chinese landscape painting to his personal experiences of the Canadian vista. A fundamental aspect of his creative process has been to work primarily from memory, and to invent and imagine the elements of the landscape that he does not recall accurately. This has led to the development of landscape constructs that are more informed and inspired by reality than a document of it. His paintings are manifestations of his experiences of being-in-the-world through the language of the landscape, creating a hybrid vigour of magical realism, neo-Romanticism and Daoist philosophy.
Richard Wathen's paintings evoke early American portraiture and 18th Century British Primitivism. His fictional portraits invite ambiguity. The figures in his work seem fragile, lost in contemplation, without expression or feeling, their age and gender often uncertain. The image on view in the exhibition suggest a moment of consideration- the delicate flower a thing of ephemeral beauty to be blown away at any moment. Jose Manuel Mesias and Taichi Nakamura both create dystopian environments within their work where nature appears scarred and forgotten.
Jose Manuel Mesias is a Cuban artist who has traditionally focused on history, dream imagery and mythology. His work in Men Who Paint Flowers carries on that spirit of contemplation. Through detailed observation of objects, spaces, and people close to his daily life in Old Havana, Mesías looks for a passageway through the "thick tissue" of the "real world" expressing his disturbing and disquieting inner monologue. The integration of the decaying beauty of nature and deterioration of his urban environment inspire him to create psychologically charged tableaus.
Taichi Nakamura creates figurative works in oil on canvas and watercolour as well as mixed media in which he freely adds strokes on top of magazine cuttings and other collage materials. Symbolism and metaphor are prevalent in all his imagery, consistently expressing his complex feelings towards humans who have deviated from the natural order of things in ways that are not so wholesome. Created under the veil of the childlike purity of painting, Nakamur's work hides a harsh critical spirit. The colorful paintings seem at first glance to depict scenes from a fairy tale, but a closer look at the details reveal that the landscapes depicted are by no means idyllic rural scenes. Black-smoking chimneys, countless abandoned old buildings and desolate landscapes are symbols of destruction. His newfound interest in nature has led him to investigate mythology and spirituality.
Argentinian artist Alejandro Pasquale has created a symbolically charged work for the exhibition that features a skull, flowers and a serpent. Drawing from art historical tropes, such as the use of a Renassiance style landscape that depicts the background as a vast geographical landmass with deeply receding spaces, the artist succeeds in bringing startling dimensionality to his work. Pasquale states: "My work has the intention and need to constantly remind us that, despite the fact that we often overlook it, we are a horizontal part of the great network of living beings that inhabit this planet. We belong, until the day we allow ourselves, to this immense and magical nature. We are nature."
Reconning with nature as an essential element of who we are as human beings, Men Who Paint Flowers showcases the shared humanity in all of us.
Location
Mindy Solomon Gallery 848 NW 22 Street, Miami, FL 33127 (Map)
Contact Information