AfriCOBRA Collective at MOCA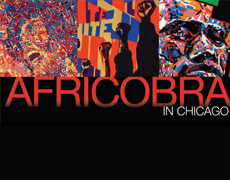 The Museum of Contemporary Art North Miami will present a groundbreaking exhibition celebrating the Chicago-based AfriCOBRA collective, in conjunction with the group's 50th anniversary. In 1968, artists Jeff Donaldson, Jae Jarrell, Wadsworth Jarrell, Barbara Jones-Hogu, and Gerald Williams founded AfriCOBRA, which stands for African Commune of Bad Relevant Artists. AfriCOBRA's visual language is defined by the use of text, bright "Cool-Aid" colors, dynamic, gestural markings, and raw, emotive, celebratory images of confident black figures. The vision these artists created went on to define the aesthetic of the Black Arts Movement. This historic exhibition will explore the founders' individual careers, as well as AfriCOBRA's philosophy and the impact of the group's work on subsequent generations.
The exhibition will run from November 25, 2018 – April 7, 2019. Art Basel Miami Beach will take place from December. 6–9, 2018. Artist reception to be announced.
Admission to MOCA is $5, free for MOCA members and North Miami residents.
Location
Museum of Contemporary Art, North Miami 770 NE 125th Street, North Miami, FL 33161 (Map)