4th Annual Frost Music Liveconcert Series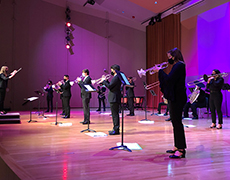 Frost School of Music Line-Up for 4th Annual Frost Music Liveconcert Series Highlights Performances by Award Winning All-Star Faculty and Students.
Fall Concerts to be Broadcast on YouTube to the Public for Free.
Performances include: Henry Mancini Institute's Artistic Director 5-time GRAMMY® Award Winner Maria Schneider, World-Renowned Conductor of the Frost Symphony Orchestra Gerard Schwarz, the Frost Award-Winning Jazz Vocal Ensemblesand more...
Show more >>
The Frost School of Music at the University of Miami has announced the upcoming schedule for its critically acclaimed FROST MUSIC LIVEconcert series through November. The virtual series continues the school policy of keeping the music playing, free to the public through a variety of platforms since the pandemic began in March.
Since its inception, Frost Music Live concert season has featuredtop name guest artists and alumni performing with Frost School facultyartists and talented students. In order to maintain everyone's safety during these challenging times, concerts are being live-streamed while performed safely on the school stages, or rebroadcast for a later date. Notable highlights include:Frost Bands in the Age of Covid,an ambitious classical concert of music for winds; the Frost Superbanda night of music for jazz big band featuring guest conductor Maria Schneideralong with members of the Frost Concert Jazz Band and Frost Studio Jazz Band;the Frost Symphony Orchestra conducted by maestro Gerard Schwarz; Rock the Musical with the Frost Theatre Ensemble; and the MSJ Jazz Ensemble directed by three-time GRAMMY winner John Daversa. Strick safety protocolsare being followed by faculty and students for all performances.
"We are very excited to present the line-up for our 4th Annual Frost Music Live Concert Series," stated Dean Shelly Berg. "While this year has presented unique challenges, we have found ways to create opportunities to showcase the extraordinary talented members of our faculty in collaboration with our students in a variety of world-class performances. We are pleased that our students can continue to grow as artists, and to be able to keep our musical community together with the Frost Music Live virtual free concert series untilwe can present music live in-person again."
The schedule through the end of November is as follows:
About Frost Music Live!
The Frost School of Music at the University of Miami proudly launched its annual Frost Music Live Series in September 2017. The series offers more than 100 concerts each year, providing for people of all ages the chance to be enriched by live musical performances. It is unrivaled in its scope of musical presentations and contributions while expanding academic opportunities and cultural enrichment to all of South Florida and its visitors. The series features the Frost School of Music's widely known artist-faculty and student ensembles, and world-renowned guest artists. Visit www.frostmusiclive.com for additional information.