La Cata Musical con César Muñoz
Friday, Sep 17, 2021 from 8:00 PM to 10:00 PM - Spanish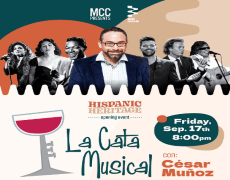 "La Cata Musical" is a show where the public has the opportunity to learn the behind the scenes, anecdotes and curiosities of the world of music in order to elevate their experience as music listeners.
In this opportunity, "La Cata Musical" presents a compendium of determining stories in the phenomenon of the globalization of our Hispanic music. From the first recordings that began to filter into different markets, the bets of the visionaries who paved the way, to the massive phenomena that have managed to captivate the whole world.
A musical tour to witness a journey full of nuances that made it possible for Hispanic music to conquer the world.
Location
Miramar Cultural Center 2400 Civic Center Place, Miramar, FL 33027 (Map)