Monty Alexander
Saturday, Jan 18, 2020 at 8:00 PM - English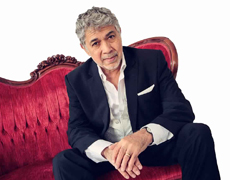 Monty Alexander Featuring JJ Shakur and Jason Brown
Back by popular demand, the jazz master from New York by way of Kingston, Jamaica, Monty Alexander, returns with his dynamic trio.
Members-Only Cocktail Reception precedes the performance.
Born in Kingston, Jamaica on D-Day, Monty Alexander was blessed with prodigious pianistic skills that were evident from age four, a fairly typical age for wunderkinds. He began classical piano training at six and with a notable change of emphasis, was becoming an accomplished jazz interpreter by 14. He was gigging in Kingston clubs in his teens when his family moved briefly to Miami and then settled to New York. In this jazz-rich atmosphere, Monty caught on with major players and formed friendships with bassist Ray Brown and another giant, vibist Milt Jackson. He recorded his first album as a leader at just 20 and flourished as a bandleader ever since.
Show more >>
Monty's playing has always retained a strong Caribbean influence, but with a significant bebop flavor and a bright swinging feeling. Influenced predominantly by Nat Cole, Oscar Peterson, and Wynton Kelly, Alexander became known for his surprise musical twists and the ability to build dramatic suspense. His roots are evident in all of his playing, both on piano and the related melodica, a keyboarded wind instrument. His latest recording in an impressive oeuvre of 95 albums(!) is WAREIKA HILL - RastaMonk Vibrations, Monty Alexander's delightfully imaginative, unique and compelling interpretation of the music of Thelonious Monk, released August 2019 on MACD Records.
Artistic Personnel: Monty alexander: Piano and melodica, J.J. Shakur: Doble bass, Jason Brown: Drums.
Location
Bailey Hall - Broward College, Central Campus 3501 SW Davie Road, Building 4, Davie, FL 33314 (Map)