Jacob Marley's Christmas Carol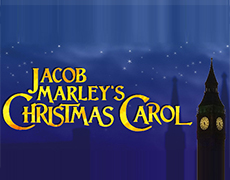 'Tis the season to celebrate with a "spirited" holiday classic! Jacob Marley's Christmas Carol is, of course, spun off from Charles Dickens' beloved ghostly tale. But in this marvelous theatrical retelling, the redemption story shifts from mean, old Ebenezer Scrooge to his former business partner, the long-dead, hilariously bitter, chains-rattling ghost, Jacob Marley.
Jacob Marley's miserable afterlife has been stretching on forever when, on Christmas Eve, he earns a chance to change his fate - if he can change the unrepentant Ebenezer Scrooge! Like the desperate apparition he is, Marley drags a terrified Scrooge from his bed into his worst nightmare as the two old frenemies journey into the past, present and future. Tom Mula adapted his own novella based on the familiar story to create his now popular play. Audiences will delight in the surprising twists and turns of the storytelling, and the inspired tour de force of one actor magically transforming into 18 roles. In a production that is intimate and spectacular, Jacob Marley's Christmas Carol is spooky fun and a festive treat that makes for "a splendid and invigorating evening" (The Chicago Tribune).
Location
Adrienne Arsht Center 1300 Biscayne Blvd, Miami, FL 33132 (Map)
Contact Information
305-949-6722