Funnyhouse of a Negro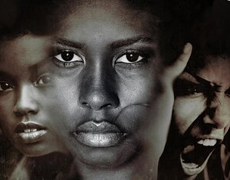 As a part of our "Dans le avant-garde series," "Funnyhouse of a Negro" by Adrienne Kennedy, directed by Zaylin Yates, is a poetic and symbolic investigation into one woman's mind before her death. Sarah has created four different personas as a way to grapple with her own self-hatred: Queen Victoria, the Duchess of Hapsburg, Jesus, and Patrice Lumumba. With these four characters at her side, Sarah tries to make sense of her conception (from rape), her life without her parents, and the creeping insanity that she feels all around her.
Show more >>
Runtime: Approximately 1hr.
Following the show, we will host "My Blackness Is Too...," a symposium on colorism and self-identity. This symposium will feature a panel of special guests and focus on mental and emotional healing for black/brown men and women. Mental illness, self-hate, and the need to be socially accepted are issues that currently plague the black community, and it is time to have a conversation. Admission to the symposium will be free. If you plan to only attend the symposium, you will be admitted once the performance concludes.
Visit brevotheatre.org for more information about the theatre and cast.
Location
Little Haiti Cultural Center 212-260 NE 59th Terrace, Miami, FL 33137 (Map)
Contact Information
Brévo Theatre