Schumann and Shostakovich - Coral Gables Museum
Sunday, Oct 8, 2023 from 6:00 PM to 7:30 PM - English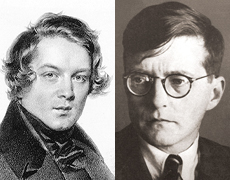 Schumann String Quartet No. 1 in a minor, Op. 41, No. 1 (1842)
Shostakovich String Quartet #8 in C minor, Op. 110 (1960)
Robert Schumann (1810-1856) was a German composer, pianist, and influential music critic. He is widely regarded as one of the greatest composers of the Romantic era. In 1842 Schumann composed the Three String Quartets Op. 41, the Piano Quintet Op. 44 and the Piano Quartet Op. 47, a veritable 'Year of Chamber Music'. Influenced by the late quartets of Beethoven and the quartets of Haydn and Mozart, Schumann's string quartets are masterpieces in their own right, filled with musical inventiveness, youthful exuberance and intense poetic feeling.
Dmitri Shostakovich (1906-1975) was a Soviet-era Russian composer and pianist. He is regarded as one of the major composers of the 20th century and one of its most popular composers. His music is characterized by sharp contrasts, elements of the grotesque, and ambivalent tonality; he was also heavily influenced by the neoclassical style pioneered by Igor Stravinsky, and by the late Romanticism of Gustav Mahler.
The string quartet was written shortly after Shostakovich reluctantly joined the Communist Party. According to the score, it is dedicated "to the victims of fascism and the war"; his son Maxim interprets this as a reference to the victims of all totalitarianism, while his daughter Galina says that he dedicated it to himself, and that the published dedication was imposed by Soviet authorities. Shostakovich's friend, Lev Lebedinsky, said that Shostakovich thought of the work as his epitaph and that he planned to commit suicide around this time. The work was written in Dresden, where Shostakovich was to write music for the film Five Days, Five Nights, a joint project by Soviet and East German filmmakers about the bombing of Dresden in World War II. The quartet was premiered in 1960 in Leningrad by the Beethoven Quartet.
Location
Coral Gables Museum 285 Aragon Avenue, Coral Gables, FL 33134 (Map)