Fanni Sarkozy and Friends
Saturday, Aug 4, 2018 from 8:00 PM to 10:00 PM - English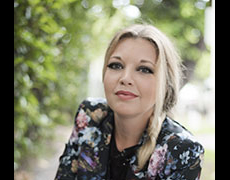 A multi award winning pianist, singer and composer proficient in jazz and classical music. With multiple recordings and awards, Fanni has became an internationally recognized artist. Her composition "No Time To Lose" won the Grand Prize of the International Songwriting Contest in France in 2010. In the same year, the Jazziz Magazinereleased a review and a CD-attachment with one of her original songs. In 2012, she won the "Best Jazz Album of the Year" in Hungary's most prominent award, the Fonogram Awards with the Mrs. Columbo Band.
Fanni is known for her music written for films, commercials and documentary films. Her latest work is a documentary film about a Paralympic Champion Robert Suba, who won the Silver Medal in kayak in Rio. (The Amphibious)
Fanni's musical world is a unique mixture of many different genres. Her performance is full with humor, playfulness, deep thoughts and surprises.
Event Fees
General Admission$ 30.00.
Reserved Table Seating$ 40.00.
Premium Table Seating$ 45.00.
Location
Arts Garage 94 NE 2nd Ave, Delray Beach, FL 33444 (Map)