Black Barbershops in Miami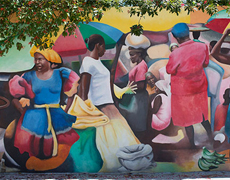 Sponsored by The Greater Miami Convention & Visitor Bureau
The Art of Black Miami, in it's 3rd year, will shine a spotlight on local, national and international aspiring and renown artists. Launching during Art Basel, but continuing year-round, this initiative is a celebration of the abundant artistic diversity found within Miami's mosaic neighborhoods.
Show more >>
In 2006, the Miami-Dade Public Library System invited Miami photojournalist and documentarian Noelle Théard to create a new body of work in response to a series of photographs in the Library's permanent collection by Richard Davenport. Théard responded to the Davenport photographs, which depict black barbershops in Miami during the early 1980s, by revisiting some of the same barbershops in December of 2006. Both sets of photos are included in the exhibition.
Noelle Théard is a photographer and educator who holds a BA in Journalism from the University of Texas at Austin, an MA in African Diaspora Studies from Florida International University and an MFA in Photography from Parsons The New School for Design. She is a cofounder of FotoKonbit, a nonprofit that teaches photography in Haiti in order to provide Haitians with training and the opportunity to tell their own stories through photography.
Richard Davenport was born in Elizabeth City, North Carolina, and was raised in New York City. He returned to North Carolina A&T State University in Greensboro to study photography. Through his photography, he has been involved in a variety of teaching and work experiences. In the summer of 1980, he taught a six-week workshop for children at the Miami-Dade Public Library System's Lemon City Branch.
Location
Downtown Miami Area 2111 SW 19th ST., Miami, FL 33145 (Map)