Nu Deco Ensemble announces Nu Works Initiative 2017 !
Jun 22, 2017 to Aug 1, 2017 - various times - English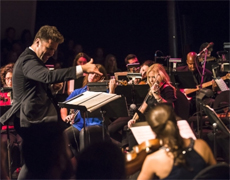 Nu Deco Ensemble is so excited to launch Nu Works Initiative calling for orchestral scores to be performed in our third season! With a mission to inspire, enrich and connect new and diverse audiences, the Nu Works Initiative will complement the genre-bending musical experiences that Nu Deco has cultivated over its first two seasons in Miami. Composers of selected pieces will be provided with the opportunity to have their pieces performed by Miami's 21st-century orchestra, Nu Deco Ensemble, as well as: hands-on experience with the Nu Deco Artistic Team, a domestic flight or $500 travel stipend for an international flight , housing in the Greater Miami area during the duration of rehearsals and performances, and professional audio and video recording of their performed piece at one of our 2017-18 venues (The Light Box at Goldman Warehouse, The New World Center, The Adrienne Arsht Center for the Performing Arts).
Contact Information