Nautilus Jazz Band at Food Truck & Music Night
Wednesday, Apr 26, 2017 from 6:00 PM to 9:00 PM - English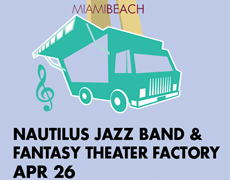 Dinner and a show! And this month, and puppet theater too. Admission is free.
The popular Food Truck & Music Night features a selection of dining treats along Ocean Terrace.
The award-winning Nautilus Jazz Band, under the direction of legendary bandleader Mr. Modia, are promising a great show. Mr. Modia, leading a 20-member ensemble, brags this year's group is 'really good.' They include in their repertoire everything from Sinatra tunes to Bruno Mars.
Show more >>
Fantasy Theater Factory will present its spring puppet feature: Dudley Saves The Earth.
On Ocean Terrace, check out performers from the Front Yard Theater Collective. Green Monkey offers a yoga session on the oceanfront UNIDAD terrace.
Location
North Beach Bandshell 7275 Collins Avenue, Miami Beach, FL 33141 (Map)
Contact Information
305-672-5202