$1,000,000 Fellowship for Music Leaders in Miami!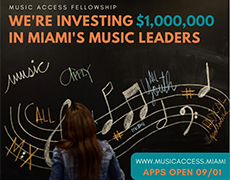 Application Deadline: Pre-applications are due on September 30th.
Overview: The Fellowship is hoping to fuel increased collaboration amongst leaders in the music / education ecosystem, and will be funding leaders who have ideas about how they can collaborate together to bring the power of music to youth in Miami. If you have a great collaboration idea, we encourage you to apply!
Location
Venture Cafe Miami 1951 Northwest 7th Avenue #600, Miami, FL 33136 (Map)