Ritmo Jondo - Little Haiti Cultural Complex
Saturday, Apr 29, 2017 at 8:30 PM - English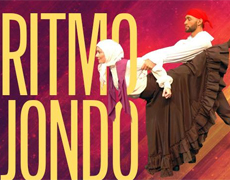 Dance Now! Miami presents Doris Humphrey's 1953 Masterpiece, Ritmo Jondo, performed to the tantalizing Spanish rhythms of Catalan born composer Carlos Surinach.
With swirling, cascading motions for the women and vibrating, thrusting steps and gestures for the men, this work stes up a counterpoint of masculinity and femininity that has had significant impat on modern dance and has powerful contemporary meaning. Daniel Lewis, Miami's own internatonally acclaimed dance luminary will introduce the work each time it is performed, sharing his rich coiffure of stories and anecdotes to make the experience one to remember.
Show more >>
This pioneering work of modern dance was choreographed by Doris Humphrey in 1953 for the Jose Limon Dance Company and has been reconstructed on Dance NOW! by Daniel Lewis, Miami dance luminary, with suppoert from the National Endowment for the Arts and Funding Arts Network. Ritmo Jondo is ready seen and has never been performed in South Florida, and combined with the Folkloric and Latin elements of this work, will wow contemporary dance auidences and dance historians alike.
Tickets:
$35 General.
$15 Students/Seniors at the door.
Location
Little Haiti Cultural Complex 212 NE 59 Terrace, Miami, FL 33137 (Map)
Contact Information
305-975-8489