Death Cab for Cutie
Monday, Oct 22, 2018 at 7:00 PM - English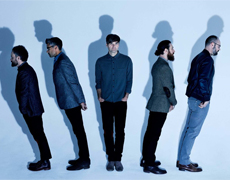 Death Cab for Cutie's rise from small-time solo project to Grammy-nominated rock band is one of indie rock's greatest success stories. Launched in the bayside college town of Bellingham, Washington, the group was originally a side project for singer/guitarist Ben Gibbard, an engineering student at Western Washington University who split his time between school and music. Taking a break from his local power pop band, Pinwheel, Gibbard began recording an album's worth of solo material during the summer of 1997. Producer Chris Walla lent his help to the sessions, which resulted in an eight-song cassette entitled "You Can Play These Songs with Chords". When the tape became a local hit, Gibbard reached into his circle of friends to form a band, hoping to play the new songs live. Bassist Nick Harmer and drummer Nathan Good climbed aboard, and Walla enlisted as the band's primary guitarist (he would also go on to produce most of the band's future releases). Gibbard's group rechristened itself Death Cab for Cutie (named after a song by the Bonzo Dog Doo Dah Band) and signed a contract with the Seattle-based Barsuk Records within a year's time.
Show more >>
The quartet made its studio debut with 1998's "Something About Airplanes", an album that featured several re-recorded tracks from the Chords cassette as well as a dreamy, pop-oriented sound reminiscent of Built to Spill. Gibbard and Walla both continued to pursue their own projects, but that didn't keep Death Cab for Cutie from returning to the studio for a second album, "We Have the Facts and We're Voting Yes", which appeared in 2000. Nathan Good left the group just prior to the album's completion, and We Have the Facts introduced Michael Schorr as Death Cab's new drummer.
The polished, hook-laden "Transatlanticism" arrived in 2003 and announced the arrival of drummer Jason McGerr, who had previously played in a band with Nick Harmer. The album proved to be a very important step in the band's career, gathering positive attention from consumers and industry execs. With their popularity at an all-time high, the bandmates issued a live disc, "The John Byrd E.P.", and later signed a worldwide major-label deal with Atlantic Records in November 2004.
"Plans" was released the following summer and debuted at number four, remaining on the Billboard charts for nearly one year and achieving platinum status on the strength of three singles (including the acoustic ballad "I Will Follow You into the Dark"). Death Cab for Cutie earned a Grammy nomination for their major-label debut. Death Cab returned in May 2008 with "Narrow Stairs", a darker effort that debuted at the top of the Billboard 200.
In conversation, it's obvious that the members of Death Cab for Cutie are still each other's biggest fans. More important, they genuinely enjoy making music with each other and being in a band together. Their only motivation is to create music they like – and to impress and satisfy each other. Theirs might not be a controversial rock & roll story – but it is one rooted in stable, supportive brotherhood.
Location
The Fillmore Miami Beach at Jackie Gleason Theater 1700 Washington Avenue, Miami Beach, FL 33139 (Map)