Breaking Up is Hard to Do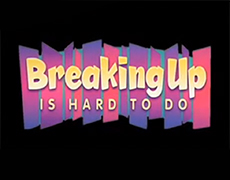 Set at a Catskills resort during the 1960 Labor Day weekend, the script focuses on the shenanigans that abound onstage and behind the scenes at Esther's Paradise Resort in the Catskills.
This sweetly comic story of Lois and Marge follows two friends from Brooklyn in search of good times and romance over one wild Labor Day weekend. The score showcases 18 Neil Sedaka classics, including "Where the Boys Are", "Sweet Sixteen", "Calendar Girl", "Love Will Keep Us Together", and of course, the chart-topping title song.
Show more >>
Marge and her stagestruck best friend Lois arrive at Esther's Paradise on a vacation that was intended to be Marge's honeymoon — until the groom left her at the altar. Lois attempts to console Marge by setting her up with the resort's handsome, self-obsessed singer Del Delmonaco.
But her plans backfire when Del mistakenly assumes that Marge's father can further his ambitions to become the next teen heartthrob on American Bandstand. Gazing forlornly at Marge from the wings is geekish cabana boy and aspiring songwriter Gabe.
When he isn't entertaining the guests with classic, but still comical Borscht Belt shtick, house comic Harvey secretly carries a torch for widowed resort owner Esther, who is more preoccupied trying to keep her resort open.
Location
Broward Stage Door Theatre 8036 W Sample Rd, Margate, FL 33065 (Map)
Contact Information