Dr Ed Calle Jazz Ensemble
Friday, Jul 27, 2018 from 8:00 PM to 9:15 PM - English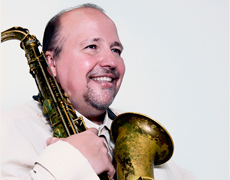 Jazz at MOCA presents The Dr Ed Calle Jazz Ensemble at the Museum of Contemporary Art, 770 NE 125 St, North Miami, FREE. Saxophonist, composer, orchestrator, producer, scholar, professor, and leader Ed Calle is known for his extraordinary ability to sight-read, interpret, and perform vitally any musical style.
Throughout the globe, his peers and colleagues often laud his versatility. For example, while outside the Blue Note in New York City sharing some time with his mentor and friend Michael Brecker, fans asked Michael about being the most recorded saxophonist in history. Becker smiled, look at his pupil, and stated, "thanks, but Ed's probably on as many or more records. He records a lot for American artists and we don't see a lot of those credits. Regardless, in my estimation, Ed is likely the most versatile saxophonist on the planet." Longtime mentor and collaborator Arturo Sandoval more succinctly affirms, "we call Calle – the monster."
Born in Caracas, Venezuela, Calle can be heard on more than 1,200 albums, almost 9,000 singles, and countless movie and television soundtracks both as a soloist, sideman, composer, arranger, conductor, and producer. Dr. Calle is a Latin Grammy Award winner for Best Instrumental Album (2015) with "Dr. Ed Calle Presents Mamblu."
Dr. Calle was awarded the 2015 Miami-Dade County Mayor's Medal, named www.facultyawards.org 2014 Outstanding Professor at Miami Dade College (college wide), and 2014 United Teachers of Dade Champion Of Education for Arts and Entertainment. Music courtesy of KCC Productions.
Location
Museum of Contemporary Art, North Miami 770 NE 125th Street, North Miami, FL 33161 (Map)