Fanni Sárközy with special guest, vocalist LeNard Rutledge
Saturday, Aug 4, 2018 at 8:00 PM - English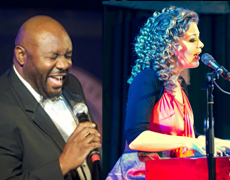 Arts Garage presents Fanni Sárközy with special guest, vocalist LeNard Rutledge. An internationally recognized, highly trained pianist, singer and music educator Sárközy is equally proficient in jazz and classical music. Born into a family of musicians, Fanni began her classical piano studies at the tender age of 6. She graduated with Honors at the Liszt Ferenc Academy of Music in Budapest, Hungary with a major in piano in 2004.
At 16 she joined her first rock band and from that moment she started to participate regularly in concerts, club events, and music contests as well, besides her classical studies. In 2002 Fanni and her musician friends – Peter Schneider and Gabor Pusztai – established her first major band, Mizar. Their effort and proficiency led them to win numerous jazz and pop competitions in Hungary and abroad.
Fanni has also achieved international recognition as a keyboardist, vocalist and composer. On 2010 Mizar won the International Songwriting Contest in the jazz category with one of Fanni's songs called "No Time to Lose". Also in the same year the American magazine Jazziz released a review and a CD-attachement with a new song of the Mizar's second album called "Natural Design."
In 2013 her band won the prominent Hungarian award, the Fonogram Award for "Best Jazz Album of the Year" with their record "Re-make up."
Captivating, soul stirring, earthy and funky. These are just some of the words used to describe the song stylings of LeNard Rutledge. Growing up in Miami, Florida, LeNard was always surrounded by many different musical styles. His parents had an extensive music collection ranging from Classical, Jazz, Hymns and the funk of James Brown. LeNard has shared the stage with a number of highly respectable jazz artists such as: Nnenna Freelon, Dee Dee Bridgewater, Kenny Drew Jr., and Harry Allen. LeNard was named BEST JAZZ ARTIST by the Miami New Times magazine.
Show more >>
Featuring: Fanni Sárközy, piano, Julio Montalvo, trombone, Armando Gola, bass, Hilario Bell, drums, and LeNard Rutledge, special guest vocalist.
BRING YOUR OWN ... WHATEVER! The theater boasts cabaret-style table seating, where patrons can bring their own food and drinks, including alcohol. Music courtesy of KCC Productions.
Location
Arts Garage 94 NE 2nd Ave, Delray Beach, FL 33444 (Map)
Contact Information
561-571-8510