The Most Beautiful Day on Earth - a 15 minute musical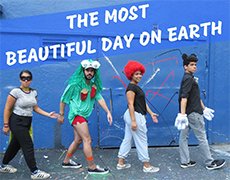 Starring Lauren Danielle Horgan, Phillip Andrew Santiago, Rachel Saruski, and Israel Vinas. Written by Arianna Rose and Shelly Gartner. Directed by Arianna Rose. "When a certain theme park banishes a certain restaurant, revenge is on the menu". Tickets are $6.00 and available online or at the venue.
Six other plays, in Spanish and English, are part of this season. Tickets available at the venue or online. Validated $5.00 parking available at 1400 Garage, behind the venue on N.E. 2nd Avenue between 14th and 15th Streets. Enter the courtyard for Microtheater Miami via the stairs or elevator from the garage to 1st floor, or enter through the iron gate on 15th Street between Biscayne Boulevard and N.E. 2nd Avenue. Food trucks, a bar and seating available - make an evening of it and support live theatre in Miami!
Location
Microtheater Miami 1490 Biscayne Boulevard, Miami, FL 33132 (Map)
Contact Information
Arianna Rose
718-954-0768