Eddie Turner & Trouble
Saturday, Jul 21, 2018 from 8:00 PM to 10:00 PM - English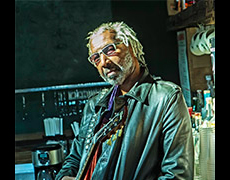 Eddie Turner has done just about everything. A guitarist since age 12, he honed his skills alongside San Francisco's legendary Tracy Nelson & Mother Earth in the '70s and Denver's hard-hitting Zephyr in the '80s, before becoming a founding member of the Otis Taylor Band in the '90s and then earning a prestigious Blues Music Award nomination for his own solo career in the mid-2000s.
The Denver-based guitarist, singer and bandleader has toured the world, garnering countless fans and an outpouring of critical acclaim in the process.
Fitting for a man who grew up outside of Chicago watching iconic blues figures such as Muddy Waters and Howlin' Wolf ply their trade — but also seeing acts like Jimi Hendrix and Cream take the music to new, more rock-influenced directions — Turner has developed a sound that's informed by tradition yet adventurous enough to not be limited by it. As the man himself puts it, "If you want to be a purist, be one not because you started there and stopped there. Be one because you went everywhere else and decided to come back. Because no music is truly pure. Everything has a little dirt in it."
Event Fees
General Admission $ 20.00.
Reserved Table Seating$ 30.00.
Premium Table Seating$ 35.00.
Location
Arts Garage 94 NE 2nd Ave, Delray Beach, FL 33444 (Map)