Yakuza's 1-year Anniversary
Thursday, Mar 23, 2017 from 5:00 PM to 11:00 PM - English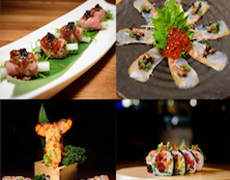 Joins us in celebrating Yakuza's 1-year Anniversary.
After a successful launch on March 10th, 2016, Yakuza is now recognized for their unique approach to Japanese (sushi) and Thai fusion. Adding tradition to modern cooking, tasty crafted cocktails from the finest mixology and providing exceptional customer service that is second to none. Yakuza also uses the freshest ingredients and compared to the 4 types of fishes that most restaurants carry, Yakuza carries 9 which are used in their high-profile sushi. Come experience live music, creative food options and sip on a complimentary cocktail as Pompano Beach's only fusion Japanese Thai restaurant turns 1.
Yakuza - where taste, quality and comfort are all fused.
Location
Yakuza 2515 E. Atlantic Blvd., Pompano Beach, FL 33062 (Map)
Contact Information
Mini Areechot
954-951-6077