Shaw Davis & The Black Ties
Friday, Jul 13, 2018 from 8:00 PM to 10:00 PM - English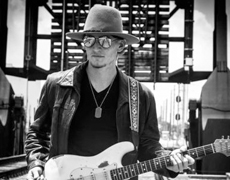 Shaw Davis is quickly becoming an artist to watch in Contemporary Blues & Roots Rock. Known for his raw, emotional and powerful style, this young guitarist has burst his way onto the scene. Backed by long-time friend, drummer Bobby Van Stone and bassist Patrick Stevenson, Shaw Davis & The Black Ties feature their own brand of Psychedelic Blues and Roots Rock that continues to win over fans and crowds across the nation.
They have opened for and shared the stage with some of the nations and South Florida's most respected blues-rock artists such as Albert Castiglia, Matt Schofield, GE Smith, JP Soars, and Mike Zito. Throughout their shows, the band plays a high-energy mix of originals as well as renditions of covers from some of their greatest influences like Jimi Hendrix, Stevie Ray Vaughan, Cream, and many other blues-rock giants.
Event Fees
Premium Table Seating $ 20.00.
Reserved Table Seating $ 15.00.
General Admission $ 10.00.
Location
Arts Garage 94 NE 2nd Ave, Delray Beach, FL 33444 (Map)
Contact Information
561-571-8510