Julius Sanna Quartet
Saturday, Aug 11, 2018 from 8:00 PM to 10:00 PM - English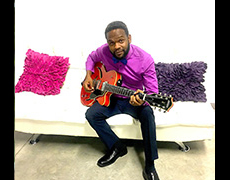 Julius Sanna is a multifaceted musician with a rich tradition in jazz, soul, funk and world beat. Julius was born in Tanzania, raised in Kenya, and moved to the United States in 1997 to attend college, where he has the opportunity to tour Europe with SNU Jazz Band.
He picked up the guitar at the age of 9 and never put it down. He comes from a large musical family. Julius's father exposed him to the richness of music from all over the world at a young age. As a musician himself, Julius's father inspired a love for music in his son. He kindled the fire that got Julius playing jazz by playing records of Nat King Cole, George Benson, Wes Montgomery, Frank Sinatra and Carlos Santana just to name a few.
Event Fees
Premium Table Seating $ 35.00.
Reserved Table Seating $ 30.00.
General Admission $ 25.00.
Location
Arts Garage 94 NE 2nd Ave, Delray Beach, FL 33444 (Map)