Five Women Wearing The Same Dress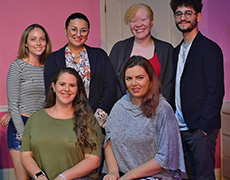 Main Street Players presents Five Women Wearing The Same Dress by Alan Ball.
During a wedding reception, five reluctant, identically clad bridesmaids hide out in an upstairs bedroom, each with her own reason to avoid the proceedings below. As the afternoon wears on, these five very different women joyously discover a common bond in this wickedly funny, irreverent, and touching celebration of the women's spirit. The show is directed by Tatyana-Marie Carlo, and the production manager is Patty Fernandez.
Show more >>
The cast is as follows:
Trisha: Amanda-Lynn Williams
Georgeanne: Thiana Berrick
Frances: Icela Marliese
Mindy: Rei Capote
Meredith: Lorena Estevez
Tripp: Kevin Rubi
Five Women Wearing The Same Dress runs July 20 thru August 12, with shows on Fridays and Saturdays at 8 pm and Sundays at 2 pm. Tickets are $30 for adults and $25 for students, seniors, and military personnel. Theatre League members/Industry $20 with I.D. presented at door.
For more information, contact Patty Fernandez at 786-344-7551.
Location
Main Street Playhouse 6766 Main Street, Miami Lakes, FL 33014 (Map)
Contact Information
305-558-3737