Daniel Lewis Miami Dance Sampler 2018
Saturday, Oct 20, 2018 various times - English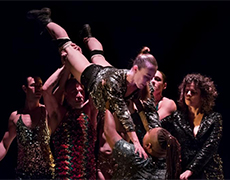 "Daniel Lewis Miami Dance Sampler" featuring eleven area companies and choreographers.
ADMISSION: $25 general admission, $15 students/seniors. Tickets can be purchased in advance online at tinyurl.com/DanceSampler or in-person at the performances.
Show more >>
The Miami dance scene is much larger, with more depth and diversity, than many people are aware of, and the companies, choreographers and dancers that will be a part of the annual Daniel Lewis Miami Dance Sampler really showcase this in an extraordinary way. Named for the Founding Dean of the Dance Department of New World School of the Arts (NWSA), and this year celebrating his 75th birthday, the showcase of short works and excerpts, with two performances on Saturday, October 20 at the NWSA Dance Theater, is a testimony to the resiliency and unique ensembles that speak to South Florida audiences.
"With an astounding eleven companies participating, this will be an amazingly rich and dynamic event," says Hannah Baumgarten, Co-Artistic Director of Dance NOW!, the producer and of course a performing company this year. The Miami Dance Sampler is also produced in in collaboration with the Florida Dance Education Organization, Miami Dance Futures and New World School of the Arts.
The full list of companies and choreographers for the Sampler are: Alma Dance Theater; Arts Ballet Theatre; Ballet Flamenco La Rosa; Dance NOW! Miami; Dimensions Dance Theatre of Miami; Fuentes Stephanie Dance Project; Karen Peterson and Dancers; Momentum Dance Company; New World School of the Arts Dance Division; Tango Out; and the Pioneer Winter Collective.
Each performance will include a pre-show discussion an hour before curtain time, moderated by the Miami Dance Hub, that gives audiences the opportunity to meet and dialogue with the choreographers and dancers from all the companies.
Location
New World School of the Arts 25 NE 2nd Street, 8th floor, Miami, FL 33132 (Map)
Contact Information
305-237-3135