Marina Piccinini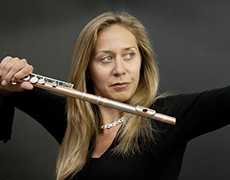 Marina Piccinini is an international treasure. She grew up in Brazil and was born to an Italian father and a Brazilian mother. When the family moved to Switzerland, she heard the Mozart opera "The Magic Flute" and told her father she wanted to play the flute. "My love of the flute stems from that performance, which is really an opera and a vocal performance."
Piccinini's flute playing combines an intensely communicative performance with a powerfully magnetic stage presence, and a global perspective that informs her work.
Show more >>
May 23: Registration | Opening Gala Recital.
May 24-30: Exhibition Visits:
Guided tour of the New World Center and meeting with NWS Staff "Expression Through Interpretation" Masterclass with Marina Piccinini.
Guest Artist Workshops "Control Your Breath" with Femi Oladeji.