The Art of Protest - La Merced Chapel Corpus Christi
Friday, Oct 6, 2023 from 7:30 PM to 9:00 PM - English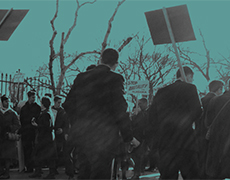 Raise your voice and join us for a powerful concert of protest songs! Seraphic Fire and Funding Arts Network present songs from the Civil Rights, Women's Suffrage, Abolitionist movements, and more. Host Reginald Mobley will lead this concert and sing-along with 5 singers, guitar, and percussion.
This concert is FREE, please reserve a ticket in advance.
Join us immediately following each performance for a talkback with the artists.
Program to Include
Songs from the protests of the American Revolution, Abolition movement, Women's suffrage movement, Labor movement, Civil rights movement, independence movements in South America & the Caribbean, and LGBTQ+ rights movements.
Location
La Merced Chapel Corpus Christi 3220 NW 7th Ave, Miami, FL 33127 (Map)