Conscious Entrepreneur Panel + Workshop
Wednesday, Nov 13, 2019 from 5:30 PM to 7:30 PM - English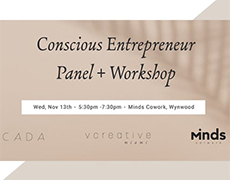 Join the founders of CADA Consult and VCREATIVE Miami as they spark a thought-provoking conversation in an open-discussion panel and stimulating workshop.
Panelists are: Erica Groussman - Co-Founder of Truwomen Maria Botero - Founder of Mama Jungle and Wellness InfluencerMarivette Navarete - Founder of The Mujerista and The M Space.
All mindful consumers and business visionaries are welcomed!
Ticketed event starting at $10.
Location
Minds Cowork 114 NW 25th st, Miami, FL 33127 (Map)