Diego Gutierrez: Open Up with Roomful of Teeth
Sunday, Jan 26, 2020 from 10:30 AM to 2:00 PM - English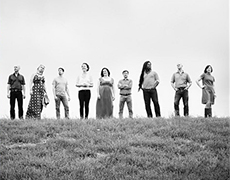 IlluminArts and Oolite Arts are thrilled to present Diego Gutierrez: Open Up with Roomful of Teeth. Enjoy a special brunch before the show at 10:30AM and the performance at 12:30PM.
Tickets:
Brunch + Performance: $35
Performance Only: $15
Show more >>
Diego Gutierrez: Open Up is a special musical performance inspired by the artist's solo exhibition Hypersensitive Romantic, featuring Roomful of Teeth in their Miami debut. Roomful of Teeth is a GRAMMY-winning vocal ensemble dedicated to reimagining the expressive potential of the human voice. Through study with masters from vocal traditions the world over, the eight-voice ensemble continually expands its vocabulary of singing techniques and, through an ongoing commissioning process, forges a new repertoire without borders. Roomful of Teeth will highlight Gutierrez' work through a curated music program including Caroline Shaw's Pulitzer Prize winning piece, Partita for 8 voices. Through this performance and his solo exhibition, Diego Gutierrez opens up his studio practice, investigating the meaning of how his work functions in a public setting where it might be activated in unexpected ways. He probes the function of painting, synthesizing varied art historical approaches and pushing formal boundaries by tearing surfaces, adding sculptural elements, and re-working subject matter obsessively. Join us for this unforgettable exploration of music, art, process, romance and freedom.
Location
Faena Theater 3201 Collins Avenue, Miami Beach, FL 33140 (Map)