All That Is Solid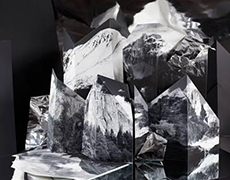 When considering the idea of form and function, a conversation arises between objects that exist as façade-inaccessible metonymic references to that which is concrete. ALL THAT IS SOLID exploits this concept to examine both social and economic development and the implications on urban growth as it relates to Miami's creative ecology.
Show more >>
Coinciding with the 100th anniversary of the Bauhaus movement, ALL THAT IS SOLID pays homage to this brief yet defining moment in history that succeeded in pollinating disparate relationships between design, architecture, and performance. The exhibition highlights artists who converge at the intersection of form, function, material, and action.
ALL THAT IS SOLID is presented by MDDA and co-organized by Miami collaborative groups Ground Control and Placeholder, collectively known as GCP.
Location
Paradise Plaza 151 NE 41 Street, Suite 223, Miami, FL 33137 (Map)
Contact Information