"What I really want to tell you..."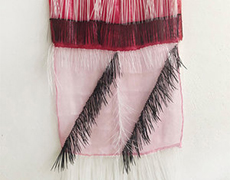 Presented by The55Project and Curated by Jennifer Inacio with Flávia Macuco Pecego this exhibition explores the cultural, social and political histories of Brazil. The participating artists question these issues and externalize their examinations through art that impact, inspire and engage, becoming their own manifestos of exploration, interrogation, and change. While responding to our contemporary moment, the exhibition highlights ways in which art stimulates and inform new ideas in times of divergent realities.
The exhibition features 14 Brazilian artists: Almandrade, Jonathas de Andrade, Liene Bosquê, Paulo Bruscky, Anna Bella Geiger, Rubens Gerchman, Ivan Grilo, Randolpho Lamonier, Vanderlei Lopes, Gabriela Mutti, Paulo Nazareth, Regina Parra, Rosana Paulino and Mano Penalva.
Hosted by Fundación Pablo Atchugarry
Produced by The55Project
Sponsored by FedEx and Consulate of Brazil in Miami
Location
Fundación Pablo Atchugarry 5520 Northeast 4th Avenue, Miami, FL 33137 (Map)