Third Annual Youth Music Festival
Saturday, Mar 9, 2019 various times - English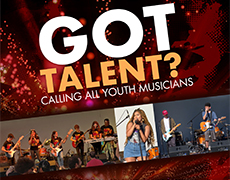 In partnership with The Rhythm Foundation, the City of Miami Beach will be hosting its Third Annual Youth Music Festival, and is looking for eager talent to take center stage.
Show more >>
"Narrowing down last year's inspiring submissions was such a difficult task for the judges," noted Commissioner John Elizabeth Alemán. "I am looking forward to seeing how our young local musicians have grown in their art in the last year and very excited to encourage and welcome new young artists to make the City of Miami Beach Youth Music Festival a part of their musical journey!"
Auditions open Monday, October 8 for those aged 18 years and younger, and for bands or individuals that perform live music. Performers must play a musical instrument; recorded music is not allowed. Additionally, at least one individual must also be a Miami Beach resident or attend a Miami Beach school.
Location
North Beach Bandshell 7275 Collins Avenue, Miami Beach, FL 33141 (Map)