Miami Classical Music Festival: Wagner's The Flying Dutchman
Friday, Jul 19, 2019 at 7:30 PM - English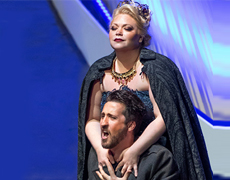 Inspired by a troubled sea voyage, The Flying Dutchman is the first of Wagner's "Romantic Operas". Set off the shores of Norway, Captain Daland and his crew come across a ghost ship that is captained by The Dutchman— condemned for all eternity for blasphemy. If The Dutchman can find a faithful wife, he will be saved. Daland's daughter Senta agrees to the arrangement, but will a past suitor threaten The Dutchman's salvation?
Show more >>
Conductor- Michael Rossi
MMF Symphony Orchestra
Wagner Institute Participants
Voted in the top ten performances of 2018 by the South Florida Classical Review, Music Music Festival's Wagner Institute makes its debut at the Adrienne Arsht Ziff Ballet Opera House in a full performance of Wagner's, The Flying Dutchman.
Location
Adrienne Arsht Center 1300 Biscayne Blvd, Miami, FL 33132 (Map)