FGO Madama Butterfly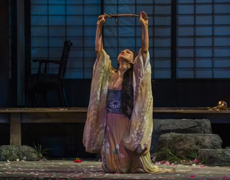 A love affair goes horribly wrong in a fateful collision of East and West. Set in 1890's Japan, Puccini's exotic opera is a heartbreaking story of betrayal, abandonment, and sacrifice. Starring internationally acclaimed soprano Sandra Lopez as Cio-Cio-San who has toured with Andrea Bocelli, and proclaimed "gifted young tenor" by the New York Times, Grammy Award-winner Joshua Guerrero as Lt. Pinkerton. This devastating saga is one of the most beloved operas of all time, and conducted by Ramón Tebar.
Sung in Italian with English and Spanish projected translations.
Location
Arsht Center 1300 Biscayne Blvd, Miami, FL 33132 (Map)
Contact Information
Florida Grand Opera
1-800-741-1010