SongFest Miami: Liederabend
Wednesday, Jan 16, 2019 at 12:00 AM - English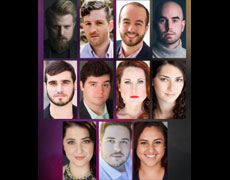 The SongFest series presents three concerts that explore music written by the contemporaries, teachers, and pupils of the mainstage season's opera composers (Puccini, Mozart, Rodríguez, and Massenet). At SongFest, context is key: both treasured classics and little-known masterpieces are combined to provide a deeper understanding of the season's operas.
All recitals are performed by the dynamic members of FGO's Studio Artist Program, giving audiences a change to discover rare and extraordinary talent.
Liederabend: An Evening of German Songs and AriasWednesday, January 16, 2019, at 7:30pm.
Location
Steinway Piano Gallery 4104 Ponce de Leon Blvd, Coral Gables, FL 33146 (Map)
Contact Information
Florida Grand Opera
1-800-741-1010