Frank Contemporaries
Thursday, Feb 28, 2019 from 6:00 PM to 8:00 PM - English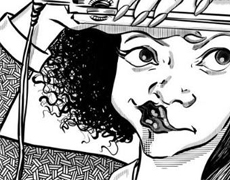 Frank Contemporaries is a free monthly pop-up exhibition and meet-up for emerging creative and visual arts professionals to network and foster connections.
In honor of Black History Month, February's Frank Contemporaries will showcase the striking and symbolic artwork of Chris Friday, an MFA Candidate at Florida International University and a Ratcliffe Art + Design Incubator fellow.
This event will include a musical performance by Art Prevails Project vocal artist JaShae L. Jones, as well as a presentation on urban innovation, growth and transformation by representatives of URGENT Inc., a 501 (c) (3) Miami-based youth and community development organization dedicated to empowering young minds to transform their communities.
URGENT Inc. students will also be showcasing artwork from their recent "Our Voice Matters" illustration project.
Location
The Frank 601 City Center Way, Pembroke Pines, FL 33025 (Map)